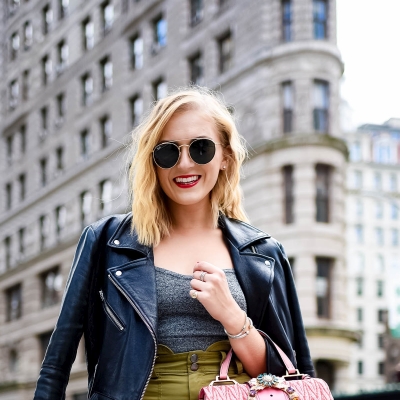 Interview with Ali Stone
Ali Stone is a freelance photographer and jewelry designer. Since 2013 she also publishes her own fashion, travel and lifestyle blog from Chicago.
Firstly, please introduce yourself and your blog ..
My name is Ali Stone. I am a photographer and the writer of the fashion, travel and lifestyle blog, Those White Walls.
What is your target audience, meaning who could benefit most from following your blog and Instagram?
My target audience is women ages 18-50 or so!
You named your fashion, beauty, lifestyle and travel blog "Those White Walls" – why did you choose that name and for what does it stand for in that context?
I actually wrote a whole blog post about this! You can read it here.
You also co-own a jewelry business together with your mom. How did this came about and what kind of jewelry line do you design and offer?
I started making jewelry when I was 9 years old because my mom refused to buy me an expensive pair of earrings... So, I taught myself to make them instead. After about three years of mom and I making jewelry, we decided to launch a business. It's called Just The 2 Of Us Jewelry. We make handmade pieces made mostly of sterling silver and brass. We do a lot of custom work for clients, hand stamping and metal work. Two years ago we also launched a line of fine jewelry. This line is more dainty and is all sterling silver, 14k gold and diamonds.
As a Chicago resident, what are your insider tips for where to shop fashion in Chicago?
Chicago is a great shopping city. We have all the designer and department stores you could dream of. BUT! My favorite is the local boutiques. My top two are Alice and Wonder in Lincoln Park and FELT in Logan Square.
You have many blog posts where you show how to combine a certain piece. What is your general advice for matching pieces and putting together good outfits?
My best piece of advice when putting together an outfit is, if you feel good in it, you look good in it!
Do you think the fashion blogger scene is oversaturared by now or could someone start even today and also be successful in relatively short time?
I think both of those statements are true. The industry is definitely oversaturated. BUT! If you're passionate, love what you do and work your butt off, you can do it.
What are your tips for a starting fashion blogger on how to begin to monetize their blog? How did you do it back then?
This is a tough question because I think a lot of people think it's easy. I wrote by blog for over three years before I started making any real money. My biggest tips are to work with brands that you love and stand behind to help grow your presence. Also, collaborate with other bloggers. Helping each other grow is a great way to gain exposure. Most importantly, you have to stay true to yourself and your brand. Decide what you're writing about, who you're writing for and don't stay. Staying authentic is SO important and brands will notice that. It can be tempting to take paid collaborations, but if they don't align with your brand, you're only hurting yourself in the long run.
You keep maintaining your blog with regular fresh content, despite the recent trend that many bloggers discontinue their blogs and solely concentrate on their Instagram. Did you ever thought of also quitting your blog and what do you think about the future of fashion blogging? Should a starting fashion blogger even bother with an own blog or is an Instagram account sufficient, meanwhile?
Definitely not! I've never thought of getting rid of my blog. My blog is the place where my readers and followers can really get to know me. It's extremely important to me to have a platform where I can give you all the most amount of information possible. Instagram is not the place for this. Don't get my wrong, I love instagram and it's an amazing platform but I think it's so important to also have a blog where you post on a consistent basis.
On your blog, you mention that you can combine your two loves - fashion and photography. What makes fashion photography so special for you?
Well, I grew up loving fashion. I was surrounded by it because my Mother and Bubby (grandmother) have always had amazing style. When i was 13 I started taking photos. At 15 I was hired to shoot my first paid photography job and at 18 I went to one of the top colleges in the country for photography. My degree is in photography and I am a freelance photographer full time. Being able to have my blog as an outlet for my love of fashion and being able to incorporate my love of photography has been amazing!
What are your general tips for aspiring fashion bloggers to shoot good fashion photos of their looks?
Learn how to use your camera! Even basic settings. Just because you buy an expensive camera doesn't make you a photographer. Take time for test shoots, to try different techniques and to learn how your camera works. After you've done that, find good light and avoid direct sun! Cloudy days are the best days to take photos!
What kind of outside locations and backgrounds do you recommend for good fashion photos?
I think this answer will differ from person to person. I don't necessarily think the background matters too much if the focus of the photo is the outfit. That being said, I love city scapes and neutral backgrounds.
You often hear from people that one doesn't need a camera for fashion photos anymore, as pictures taken by smartphones are equally good meanwhile. What do you think about this as a professional photographer?
Phone cameras are amazing these days. It surely doesn't replace a professional photo but I don't think there's anything wrong with posting a phone photo on your instagram account. I do all the time! On the other hand, I would never use phone photos for my blog.
What are your favorite fashion brands?
A few of my favorites are, N. Philanthropy, J Brand, Common Projects, Aritzia.
What are your favorite beauty products and brands?
A few of my favorite skincare brands are, TULA, Erborian, Loccitane, Bliss, Erno Laszlo, Boscia.
What do you see as fashion essentials - pieces that never go out of style?
In my opinion, if every woman has a great bag, pair of shoes and jacket, then you never need more than jeans and a white t shirt underneath.
What are the favorite fashion pieces in your wardrobe, special pieces you keep and love endlessly?
My favorite thing in my closet is a fur coat that was my Bubby's (grandmother). It has her name embroidered on the inside so it's really special to me.
Which other fashion bloggers whose style you admire do you follow for inspiration?
Oh gosh! There are so many!!! I guess I'd have to say that the bloggers I am most inspired by are the bloggers I know and am lucky enough to work with. Olivia, of Olivia Rink, Ashley or Sed Bona, Shai or Drunk on Shoes, Janet of Fashionaholic, Jenn of Style Charade, John of The Risky Jackal, Hayet of Hayet Rida, Lauren of Lakeshore Lady... These are just a few but there are seriously SO MANY! The industry in Chicago is amazing!!! All of these people work SO hard. I've never been surrounded by people as dedicated and hardworking as the community in Chicago. It's incredible!
Thank you very much for answering our questions, Ali!